In 2020 we purchased over 700 Pairs of Socks  
A big THANK YOU to everyone who contributed to this year's Sock It sock drive. Together you were able to help us donate 700 pairs of brand new extra warm socks to Boyle Street Community Services this winter. Thank you for helping make a difference in community.
A Sock Drive by 12 Creative
As a local Edmonton business, we realize the importance of giving back to our community. This year has been a year like no other.  Since we are located in the inner city we see people experiencing homelessness every day. These people might not have the means to support themselves with shelter or basic daily needs like socks, underwear or clothing to stay protected from the elements. We want to take advantage of the position we have to give, and give back to these people.
As the coldest months of the year lay ahead we want to take initiative and collect as many socks as possible. Socks are crucial to keeping the extremities warm during the winter months. Socks aid in regulating body temperature and helping avoid frostbite and other health issues cold weather can cause. So, we are partnering up with as many retailers, businesses and friends to get as many socks for the community as possible. We want to reach a goal of 2,000 pairs of socks. Let's make a difference in our communities no matter how big or small it is.
Can you help us?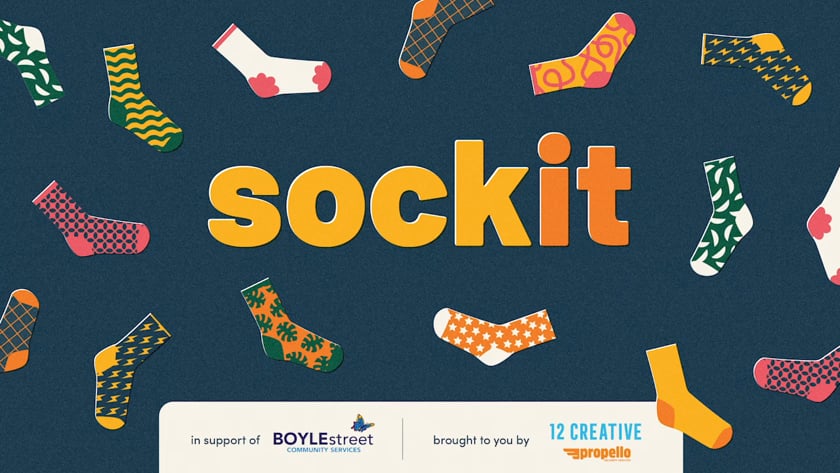 Who gets the socks?
We have partnered with our friends over at Boyle Street Community Services. Boyle Street Community Services is a non-profit organization whose goal is to build and provide community support for vulnerable populations who face multiple barriers to inclusion. Boyle Street provides housing, family and youth services, community and cultural support, mental health services, and health & wellness services to the downtown community.
With this partnership, we ensure all of our socks meet a reputable organization and can tangibly be seen affecting the downtown core community.
In 2019 we Collected over 1500 Pairs of Socks Let's Do it Again Edmonton
Thank you to everyone who helped us achieve our goal last year! This year has been a year like no other and more individuals and families are in need more than ever.
2019 -2020 Supporting Partners and Retailers
Visit one of these amazing friends of ours for their services, we thank them for support in helping us raise awareness and socks for the displaced community.
12 Creative
Oliver Park Dental
Propello Services
DX Medical Centres
Compound Cut Club
Mon Amour Flowers
The University of Alberta - Faculty of Extension
Red Academy
Foosh
LoKnow
Apollonia Dental Clinic
Imagine Health Centres
Rayacom West
Studio Mi
Shadified - Downtown
Barber Ha
muve team
ABHL
Complete Care Pharmacy
Medical Clinic Inglewood
Hamptons Pharmacy